Jerzy Latka is an architect, designer and researcher at Faculty of Architecture Wroclaw University of Science and Technology (in the section of housing design) and at the Faculty and Built Environment TU Delft  (in Department of Architectural Engineering + Technology).
In his design and research work, Jerzy deals with paper as a building material in innovative structures as well as the temporary, relief and social oriented architecture.
He gained his professional and scientific experiences in international architectural practices and universities. He worked in Poland, Ireland, Romania, Great Brittan, Israel, Japan and the Netherlands.
Since the year of 2007 he leads the scientific students association Humanization of Urban Environment at Faculty of Architecture Wroclaw University of Science and Technology, where in the years 2010 – 2012 he conducted the research project: Paper as a building material.
In the year 2013 as one of two chosen international research students Jerzy was invited for scientific internship to Shigeru Ban Studio at Kyoto University of Art and Design. Next to the conducted research he took part in design and implementation of relief paper structure of Miao-Miao Nursery School. The Nursery School was built in the city of Ya'an in the Sichuan Province, in China. The Paper Nursery School was realized in cooperation with Shigeru Ban Architects, Voluntary Architects' Network and students from Sichuan University and Kyoto University of Art and Design.
In the years 2012, 2014 and 2015 Jerzy was teaching the Bucky Lab course and in the year 2017 the Technoledge course at Faculty of Architecture TU Delft. Together with the students he built series of prototype structures made of paper and cardboard.
In the year 2015 he built the Wroclaw University of Science and Technology Exhibition Paper Pavilion for the 70th anniversary of the University with students from WUST and TU Delft.
In 2015 he was chosen as one of the three most promising young researchers in paper industry at the international conference European Paper Week in Brussels, organized by the Confederation of European Paper Industries (http://www.cepi.org/EPW/2015).
In 2016 he received the first prize in the contests Futu Wro City of the Future/ Laboratory of Wroclaw within European Capital of Culture, Wroclaw 2016 program. Realized within the EPW project of House of Cards is the first living unit built of paper components in Poland .
In 2017 Jerzy was invited as a representative of Wroclaw University of Science and Technology to the Innovation Committee of Innovation in Architecture program organized by Architektura – Murator magazine ( http://architektura.muratorplus.pl/innowacje-w-architekturze )
Next to the design and research on paper as a building material, Jerzy is involved in didactics and widely understood architectural design.
He was a coordinator of Nowa Slodowa team at WUST, which dealt with the building at Slodowa Island in Wroclaw (www.wyspaslodowa.pwr.edu.pl).
Both as organizer and tutor he took part in dozens of architectural workshops, including Summer School of Architecture 2016 – Living Unit (www.ssa.pwr.edu.pl), and nationwide architectural workshops Architektour (http://architektour.pl/tutorzy-2/).
During his research and design, Jerzy met many people who he can consider as signposts in his personal and professional development. Three of them had a distinctive influence on his profile:
Shigeru Ban – Japanese architect, winner of the Pritzker Prize (recognized as the Nobel Prize in architecture). Shigeru Ban in the mid 80's began a new era of paper architecture. Focusing mostly on paper tubes, he also experimented with other paper based materials. His design activity emphasizes new formal and material solutions. In 1995 Shigeru Ban funded NGO Voluntary Architects' Network, which supports and implements relief architecture worldwide.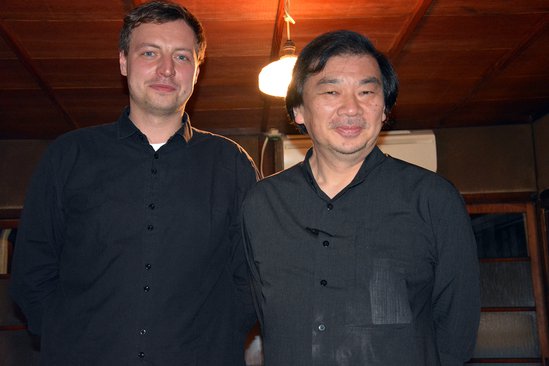 Shigeru Ban and Jerzy Latka, Kyoto, 12.04.2013
Prof. Zbigniew Bac – creator of the idea of habitat as a philosophy of design and organization of the inhabitants' lives. Professor Emeritus is one of the architects in the Section of Housing Design at Faculty of Architecture at Wroclaw University of Science and Technology. The head of Scientific School of Habitat promotes interdisciplinary approach to housing environment design. Professor Bac is the author or co-author of 180 design works, both domestic and international, including 40 contests. Prof. Bac is the promotor of master and doctoral thesis of Jerzy Latka. Professor Bac is a scientific supervisor of the Students' Scientific Association Humanization of Urban Environment.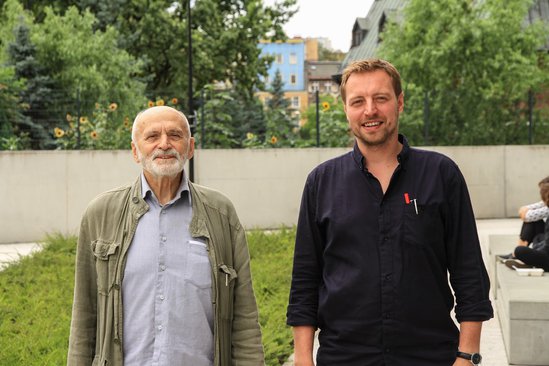 Prof. Zbigniew Bac and Jerzy Latka, 09.08.2016, Wroclaw, fot. Marcel Bilow
Zeev Baran is an architect and Honorary General Consul of the Republic of Poland in Israel. He graduated at the Israel Institute of Technology Technion in Haifa with the title of architect and urban designer. In the years 1964 - 1967 he continued his studies as a post-graduate student in Paris in the department and architectural office of Georges Candilis. In 1970, after a 3-year practice in Israel, he opened his own architectural office in Jerusalem, which is called Zeev Baran Architect. There he hires multi-ethnic team. The office is specialized in making designs for developing countries and for minorities in Israel.
Zeev Baran and Jerzy Latka, Akko, Israel, 17.09.2011
during his scientific research and design works, Jerzy Latka cooperated with:
Prof. Mick Eekhout,
Dr. – ing. Marcel Bilow,
Eng. Julia Schonwalder,
WE COOPERATED WITH:
2010 - 2012
Patryk Antczak, Małgorzata Bieńskowska, Mariusz Biernacki, Natalia Bobińska, Kamil Bocian, Sebastian Dobiesz, Katarzyna Drapa, Anna Jakubińska, Paweł Kędziak, Anna Kwiatek, Katarzyna Laskowska, Małgorzata Łoś, Karol Mądrecki, Aleksandra Omiotek, Mikołaj Romanowicz, Alicja Sawicka, Justyna Sielska, Katarzyna Starzak, Maria Wawer, Małgorzata Zych, Joanna Żyłowska
2015:
Katarzyna Dominiak, Karolina Dyjach, Anna Pastor, Emilia Karwowska, Adrianna Kaźmierczak, Patrycja Jędra , Marta Gruca, Małgorzata Radaj, Marta Wróblewska, Maciej Marszał, Marta Mochniak, Justyna Romanowska, Krzysztof Gorczakowski, Agnieszka Ejsymont, Monika Pietrosian, Marta Jastrzębska, Dorota Ręcławowicz, Anna Kwapień, Anna Młodzianowska, Jarosław Kuziemko, Aga Folaron, Bartosz Kołodziejczuk, Anna Górska, Adrian Jakubowski, Małgorzata Soroko, Adam Sterniuk, Agnieszka Helik, Justyna Kiedrzyn, Adam Banasiak, Bartosz Bartczak, Michał Gaj, Dawid Sionkowski, Michał Płotka, Mateusz Bieńkowski, Wioletta Michalik, Michał Chodzikiewicz, Liliana Cierpiał, Emiliana Cierpiał, Marcin Czekajło, Piotr Falis, Igor Gajewski, Patryk Gasek, Martyna Giler, Tomasz Januszewski, Piotr Kowalczyk, Damian Krata, Daniel Majchrzycki, Grzegorz Muraczewski, Marcin Panek, Adrian Prałat, Jakub Ławicki, Paweł Joniak, Emil Barczyński, Bartosz Witkowski, Alois Knol, Arko van Ekeren, Erik van den Broek, Iris van der Weijde, Marijn Verlinde, Dion Renzo Adhir Lachman, Eline Stubert, Max van den Berg, Maarten van der Kuur, Roman Oost, Wouter Kamphuis,
2016:
Paulina Urbanik, Olga Gumienna, Joanna Malińska, Agata Mintus, Weronika Lebiedowska, Magdalena Wiktorska, Natalia Olszewska, Wojtek Wiśniewski, Damian Wachoński, Dominik Gomółka, Kinga Łukasińska
Prizes and awards:
1st prize in "Futu Wro – City of the Future / Laboratory Wroclaw" contest within European Capital of Culture, Wroclaw 2016
2nd prize in contest for architectural concept of land development in the area of the intersection of Kazimierz Wielkie and Świdnicka streets in Wrocław, with team:  Z. Bac, I.Kazmierczak, P. Filar, E. Glogowska, J. Latka , B. Jaskulski, K. Madrecki, 2012
2nd prize in the competition Beautiful Wroclaw for the best architectural realization of multi-family housing, with team: Pawel Horn, Malgorzata Igras, Maciej Kowaluk, Jerzy Latka, 2011
 3rd prize in nationwide competition for creative meeting spot in office spaces Paper Miracle, Jerzy Latka, Katarzyna Lontkowska, Anna Jakubinska, 2011
2nd prize in the competition for Gadget of Wroclaw University of Science and technology for the occasion of 100 anniversary of technical universities in Wroclaw, together with Pawel Stelmach, 2010
3rd prize in nationwide competition for footbridge on the river Sleza, 2009
1st prize in the students' competition Lower Silesia – No Barriers for designing for disabled people, together with Barbara Kras, 2007
Chosen Publications:
Jerzy Latka, Paper spatial structures, International Association for Shell and Spatial Structures (IASS) Symposium 2013 "BEYOND THE LIMITS OF MAN" Wroclaw, Poland ISBN 978-83-7493-787-0
Jerzy Latka , Paper relief architecture, IASS-SLTE 2014 VI Latin American Sympo­sium on Tension Structures, Brasilia
Jerzy Latka, Humanista - Shigeru Ban, laureat Nagrody Pritzkera. Architektura & Biz­nes. 2014, nr 6, s. 18-21.
Jerzy Latka ARCHI-TEKTURA: paper and cardboard as an innovative material in architectural structures. Przegląd Papierniczy = Polish Paper Review. 2014, nr 12, s. 740-746.
Zbigniew Bac, Jerzy Latka, 

Kibbutz

- the habitats of the desert, Habitaty - architektura socjal­na = Habitats - social architecture / ed. Zbigniew Bac. Wrocław : Oficyna Wydawnicza Politechniki Wrocławskiej, 2014. s. 9-21
Jerzy Latka Cardboard as a building material - transition from past to the future. IASS 2015: The Annual International Symposium on Future Visions : proceedings of the International Association for Shell and Spatial Structures (IASS) Symposium 2015, 17-20 August, Amsterdam, the Netherlands.
Jerzy Latka TECH Transportable Emergency Cardboard House. Spatial Structures in the 21st Century [Dokument elektroniczny] : Proceedings of IASS 2016 Tokyo Symposium, 26-30 September, 2016, Tokyo, Japan / K. Kawaguchi, M. Ohsaki, T. Takeuchi (eds.). Madrid : International Association for Shell and Spatial Structures (IASS), cop. 2016. P. No. 1489P, s. 1-9.